Ryan Adams is one of the most prolific songwriters of his generation, and he also has an amazing pinball collection. Ryan, no not Bryan Adams, started out in the seminal alt country band Whiskeytown in the mid-90s. He then started a successful solo career with his first album Heartbreaker. Ryan has gone on to release a bunch of albums since that time (too many to mention), along with a lot of side projects including a heavy metal album. You might be familiar with this song When The Stars Go Blue, which has been covered by Bono and The Corrs as well as a country version by Tim McGraw which was a big mainstream hit. I don't care for contemporary country, so y'all gonna have to find that one on yer own.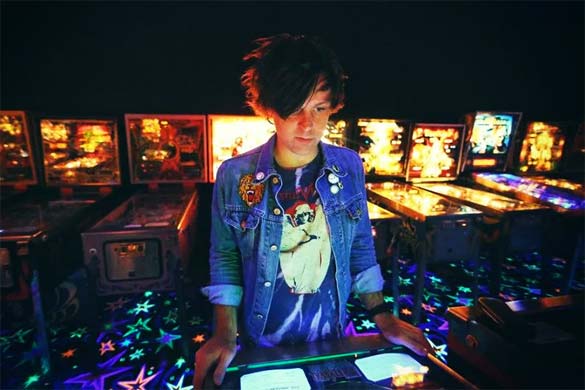 Let's get to the pinball: He always performs on a Williams carpet, and he actually brought his Metallica pinball machine on his most recent tour. The promotional photo (shown above) from his recent press release shows him in a pinball arcade playing Medieval Madness. Ryan has booked tours to directly coincide with the Pinball Expo in Chicago, and regularly attends the CAX in California. Elvira appeared in the Ryan Adams video for Gimme Something Good (below), and I think we have a good idea why he might have asked her. What, no party monsters?
Ryan's Los Angeles based studio and label is called Pax-Am, but he keeps his 100+ pinball collection in a different 3500 square foot space in L.A., which serves as his private pinball mancave. He also likes vintage arcade games, and even did a video review of Gorf (seen below). Consequence of Sound has an excellent post compiling all of Ryan's tweets about pinball. Ryan Adams has purchased pinball machines through these listings on Bargain Pinball Machines as well as the excellent classified ad section of Pinside (and he's a Pinsider!). I recommend listening to his vinyl LP records, but if you're one of those people that got rid of their music and only listen with their phone (booo!), check him out on your favorite streaming service.
Article by Shawn McNulty
Long Player from The Awl on Vimeo.